CanSkate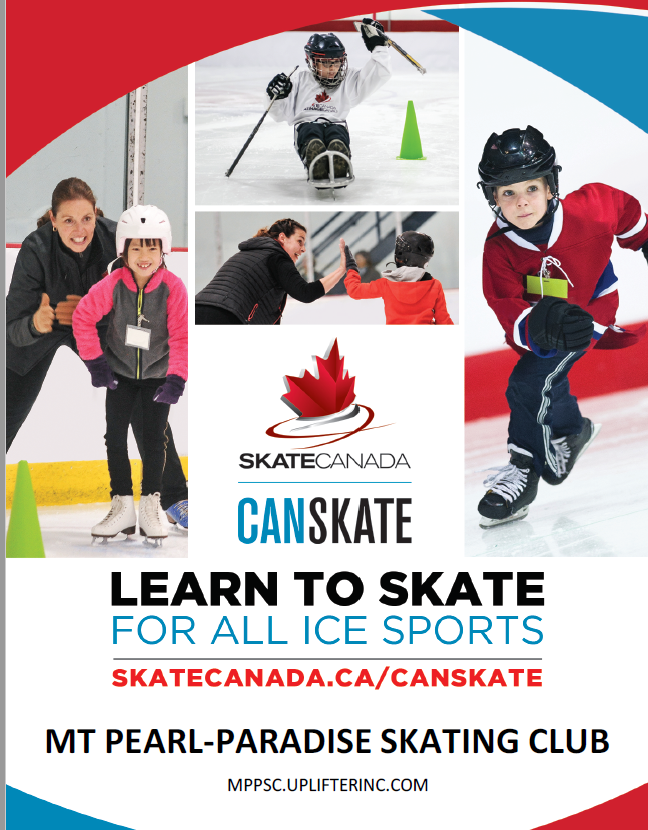 CanSkate is the Skate Canada flagship learn-to-skate program. It provides kids with the best foundation for figure skating and hockey and introduces a healthy, life long activity at an early age. CanSkate promotes fun, fitness and participation.
The CanSkate program teaches fundamental skating skills like skating forwards, backwards, how to stop, turn, spin and jump. The skills are taught and emphasized through fun activities and continuous movement in small groups. Skills are assessed frequently, and there are many incentives available to reward participation. Badges are also awarded at each level. CanSkate graduates can progress on to other Skate Canada programs. Instruction is on a group basis and taught by Professional Coaches and assisted by qualified CanSkate Program Assistants to ensure a good coach to skater ratio.
All skaters must have a CSA approved ice skating helmet. Bike helmets are not acceptable. Parents are not permitted on the ice with their children and no hockey equipment is allowed on the ice. Skaters should be dressed warmly but not in clothing that is restrictive. Parents of CanSkate children must have someone at the arena that is responsible for their child while he/she is on the ice.
Sessions are 20 weeks in duration and each CanSkate lesson is 50 minutes long.
WHY SIGN UP FOR CANSKATE?
What is CanSkate?
CanSkate is a dynamic learn-to-skate program that focuses on fun, participation and basic skill development. CanSkate centers on physical literacy and the fundamental skills needed to take part in any ice sport or to skate as a recreational activity.
Who's it for?
For beginners of all ages, as well as for those wishing to improve their basic skills whether their focus be for figure skating, hockey, or just skating for fun.
Who teaches it?
Trained professional coaches, assisted by trained program assistants.
What will you learn?
A complete series of balance, control and agility skills taught in six stages of learning. CanSkate uses nationally-tested and proven curriculum and delivery methods that guarantee skater success in developing stronger basic skills and developing them faster.
What can you expect?
Action, movement and fun! Lessons are given in a group format. Skaters progress at their own rate and coaches make sessions active using teaching aids, upbeat music and a wide variety of activities that create a motivational environment and promote learning. Badges, ribbons and other incentives are used to benchmark skaters' progress and reward effort and participation.
What is CanSkate High Performance (HP)?
This program is by invitation only and is designed to fast-track keen CanSkaters who display the eagerness and potential to be competitive skaters. Skaters must be under 8 years of age and passed STAGE 2. Skaters will progress through the program mastering basic figure skating skills in a fun, progressive and sequential manner. Skaters will be taught in small groups (6 skaters or less) by Skate Canada professional coaches in a fun and positive environment. This program will also include an off ice component to improve balance, coordination and flexibility. Skaters are required to required to attend one other regular CanSkate session in addition to the HP session.