Welcome to the Mount Pearl-Paradise Skating Club!
Regular Season Schedule can be found below.
As this is the start of our new season, we would like to remind all skaters, coaches, parents and volunteers of the Skate Canada Code of Conduct.
Please take a few moments to review this document as all parties are expected to abide by these guidelines.
Our Programming
Find out more about our programs by visiting the links below
REGULAR SEASON SCHEDULE: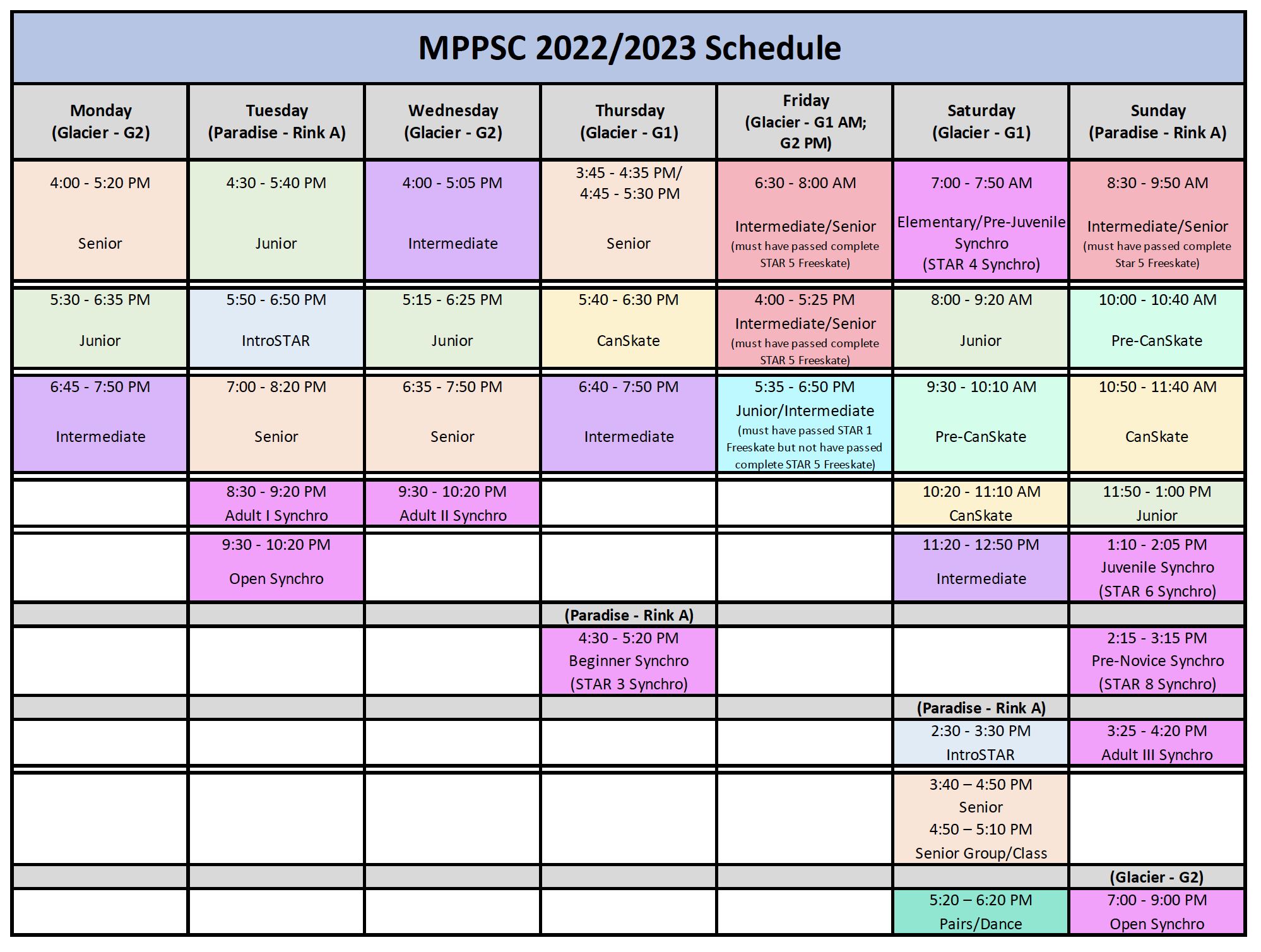 CanSkate Dates with No Sessions
| | | |
| --- | --- | --- |
| Thursday | Saturday | Sunday |
| Oct. 20, 2022 | Oct. 22, 2022 | Nov. 13, 2022 |
| Dec. 22, 2022 | Nov. 12, 2022 | Dec. 25, 2022 |
| Dec. 29, 2022 | Dec. 10, 2022 | Jan. 1, 2023 |
| Feb. 9, 2023 | Dec. 24, 2022 | Jan. 15, 2023 |
| Mar. 23, 2023 | Dec. 31, 2022 | Feb. 12, 2023 |
| | Jan. 14, 2023 | Feb. 26, 2023 |
| | Feb. 11, 2023 | Mar. 26, 2023 |
| | Mar. 25, 2023 | |
IntroSTAR Dates with No Sessions
| | |
| --- | --- |
| Tuesday | Saturday |
| | Nov. 12, 2022 |
| Jan. 3, 2023 | |
| | Jan. 14, 2023 |
| Feb. 7, 2023** To be confirmed | |
| | Feb. 25, 2023 |
| Mar. 7, 2023** To be confirmed | |
Junior/Intermediate/Senior Cancellation and Schedule Change Dates
Junior
Intermediate
Senior
Oct. 20, 2022
Oct. 20, 2022
Oct. 22, 2022
Oct. 22, 2022
Oct. 31, 2022
Oct. 31, 2022
Nov. 11, 2022


(Both AM & PM sessions)

Nov. 11, 2022


(Both AM & PM sessions)

Nov. 11, 2022


(Both AM & PM sessions)

Nov. 12, 2022


(Both Glacier & Paradise)

Nov. 12, 2022


(Both Glacier & Paradise)

Nov. 12, 2022


(Both Glacier & Paradise)

Nov. 13, 2022


(Only synchro goes ahead)

Nov. 13, 2022


(Only synchro goes ahead)

Nov. 13, 2022


(Only synchro goes ahead)

Dec. 9, 2022


(PM sessions only)

Dec. 9, 2022


(PM sessions only)

Dec. 9, 2022


(PM sessions only)

Dec. 10, 2022


(Glacier)

Dec. 10, 2022


(Glacier)

Dec. 22, 2022


Schedule Change: 5:40 - 6:50 PM

Dec. 23, 2022
Schedule Change:


11:40 - 12:50 PM for usual Friday PM Intermediate/Junior skaters

Dec. 23, 2022
Schedule Change:
9:00 - 10:10 AM for usual Friday AM skaters
10:20 - 11:30 AM for usual Friday PM Senior/Intermediate skaters
11:40 - 12:50 PM for usual Friday PM Intermediate/Junior skaters

Dec. 23, 2022
Schedule Change
9:00 - 10:10 AM for usual Friday AM skaters
10:20 - 11:30 AM for usual Friday PM Senior/Intermediate skaters


Dec. 26, 2022
Dec. 26, 2022
Dec. 26, 2022
Dec. 27, 2022
Dec. 27, 2022
Dec. 28, 2022
Dec. 28, 2022
Dec. 28, 2022

Jan. 14, 2023
(Schedule Change at Glacier + Paradise sessions at Glacier 1)
11:40 - 12:50: Junior/Intermediate

Jan. 14, 2023
(Schedule Change at Glacier + Paradise sessions at Glacier 1)
9:30 - 10:20 AM Pairs/Dance


11:40 - 12:50: Junior/Intermediate



Jan. 14, 2023
(Schedule Change at Glacier + Paradise sessions at Glacier 1)
9:30 - 10:20 AM Pairs/Dance
10:30 - 11:30 Senior
Jan. 15, 2023
(Revised Schedule)
10:30 - 11:40 AM: Senior/Intermediate
All other sessions as usual
Jan. 15, 2023
(Revised Schedule)
10:30 - 11:40 AM: Senior/Intermediate
All other sessions as usual
Feb. 9, 2023
Feb. 9, 2023
Feb. 11, 2023
(Cancelled at Glacier + Paradise revised schedule)
Feb. 11, 2023
(Cancelled at Glacier + Paradise revised schedule)
NO Pairs/Dance

Feb. 11, 2023
(Cancelled at Glacier + Paradise revised schedule)
3:40 - 5:20 PM Senior
NO Pairs/Dance
Feb. 12, 2023
(Revised Schedule)
10:30 - 11:40 AM: Senior/Intermediate
All other sessions as usual

Feb. 12, 2023
(Revised Schedule)
10:30 - 11:40 AM: Senior/Intermediate
All other sessions as usual

Feb. 25, 2023


(Paradise)

Feb. 25, 2023


(Paradise)

Feb. 25, 2023


(Paradise)

Feb. 26, 2023
Feb. 26, 2023
Feb. 26, 2023
Mar. 23, 2023
Mar. 23, 2023
Mar. 23, 2023
Mar. 24, 2023


(AM & PM sessions)

Mar. 24, 2023


(AM & PM sessions)

Mar. 24, 2023


(AM & PM sessions)

Mar. 25, 2023


(Glacier)

Mar. 25, 2023


(Glacier)

Mar. 26, 2023
(Revised schedule)
10:30 - 11:40 AM: Senior/Intermediate
All other sessions as usual

Mar. 26, 2023
(Revised schedule)
10:30 - 11:40 AM: Senior/Intermediate
All other sessions as usual

Mar. 29, 2023
Mar. 29, 2023
Mar. 29, 2023
Apr. 6, 2023


Schedule Change

Apr. 6, 2023


Schedule Change