Welcome to the Mount Pearl-Paradise Skating Club!
News
SYNCHRO TRYOUT #2 UPDATE
posted Jul 27, 2022, 6:28 PM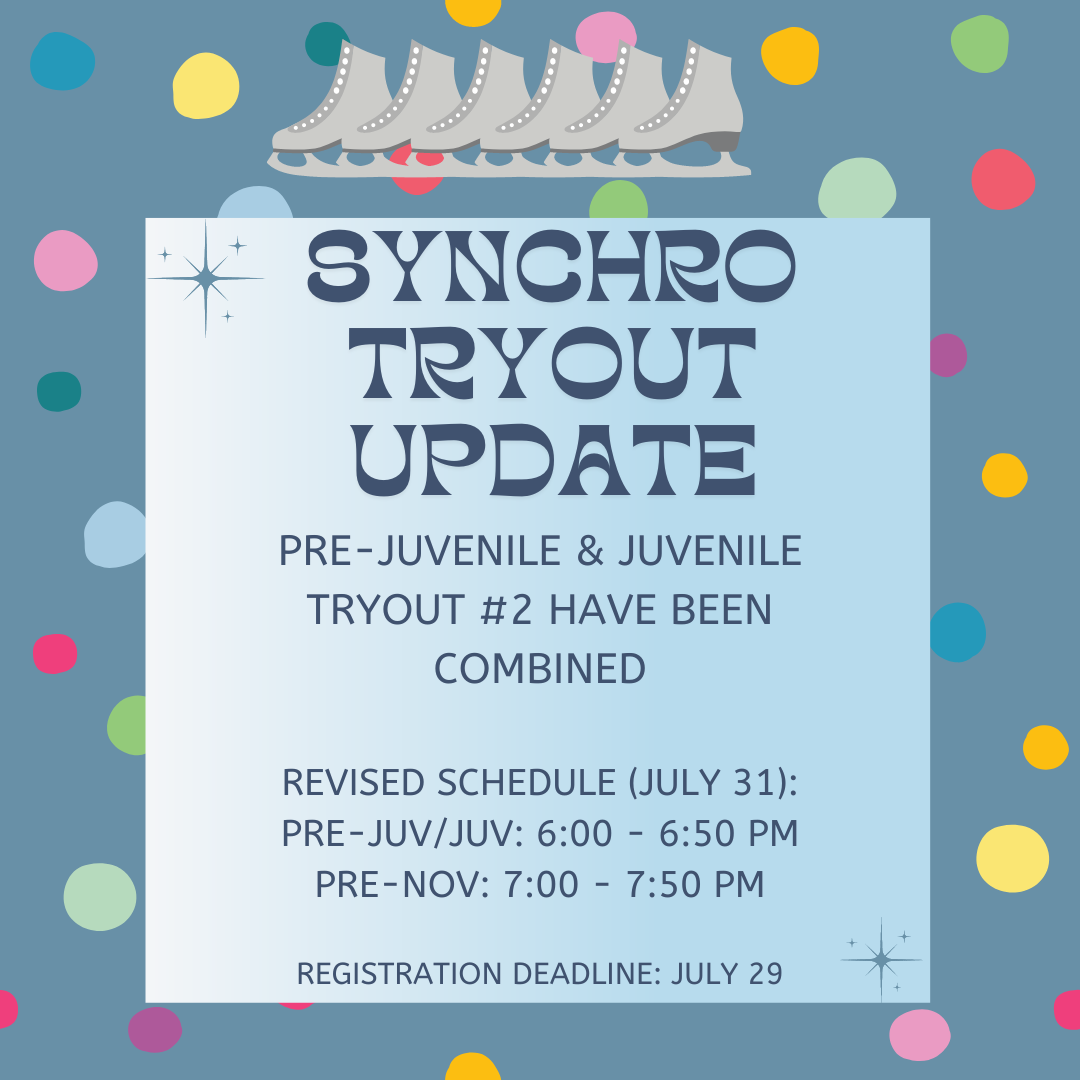 MPPSC 2022-2023 SCHEDULE
posted Jul 25, 2022, 3:43 PM
Below is the Mount Pearl-Paradise Skating Club's schedule for the 2022-2023 season. This may be helpful as you begin to plan your seasonal activities, etc.
Registration fees, payment dates, and start dates are to be confirmed for late August, pending ice confirmation.
We are so excited to see new and returning members for a new season!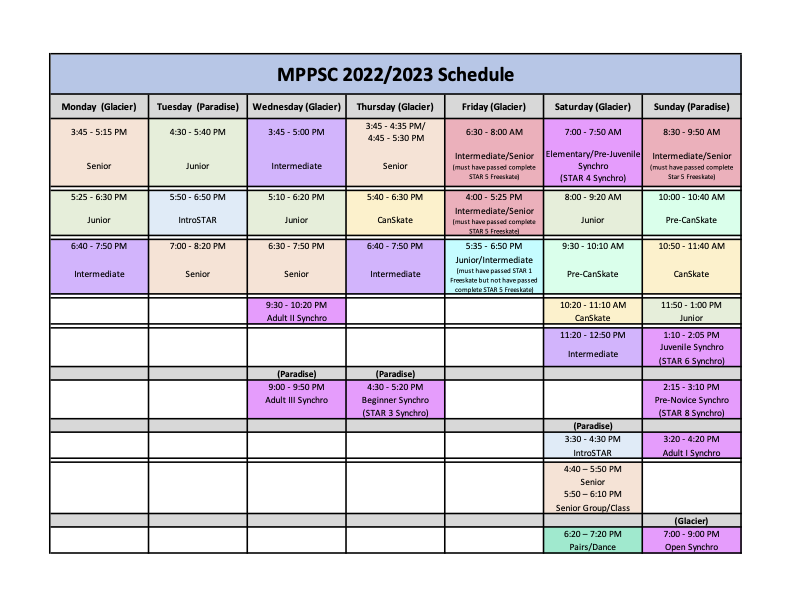 2022 SUMMER SKATE COMPETITION
posted Jul 23, 2022, 8:08 PM
Attached is the Announcement for the 2022 SCNL Summer Skate Competition, being held on August 20 at the Paradise Double Ice Complex.
Registration will open on the Skate Canada NL registration website (https://skatenf.uplifterinc.com) on Tuesday, July 26 at 10:00AM and the deadline for registration is Thursday, August 4. Late entries will not be accepted.
NOTE: Skaters will be required to submit an electronic copy of their music with their online registration. Please make sure the format is .mp3 and that the music is labeled: "Skater's Name_Category_Age Category".
SYNCHRO TRYOUT #2
posted Jul 20, 2022, 3:22 PM
As a reminder, synchro tryouts for Pre-Juv, Juv, and Pre-Nov will be held Sunday July 31st. ALL skaters (even if they attended the first tryout) wishing to be considered for a team are to attend. The deadline to register has changed. The new date is Friday, July 29th. This is to allow us to review lists and have our club coaches prepare for the tryouts.


**Please note that any skaters who were trying out for Novice or Intermediate teams should attend the Pre-Novice Tryout this time**
Pre-Juvenile: 5-5:50pm
Juvenile: 6-6:50pm
Pre-Novice: 7-7:50pm


All skaters are welcomed! Please register via the link below, or go to mppsc.ca, click on the registration for programs tab, and then click purchase products on the left side.
Looking forward to seeing our fantastic synchronized skaters soon!
CONGRATULATIONS TO COACH KEVIN WALSH
posted Jul 18, 2022, 12:09 PM
Founded in 1995, the Mount Pearl Sports Hall of Fame honors athletes and volunteers who have made outstanding contributions to sport in Mount Pearl.
At the ceremony, Kevin was inducted as a builder for his four decades of coaching, volunteering, and development of the Mount Pearl-Paradise Skating Club.
Kevin moved to NL in 1981 from Toronto after obtaining his coaching diploma at Seneca College. He began coaching with the Mount Pearl-Paradise Skating Club. He has dedicated his adult life to helping children both on and off the ice. In addition to being the first and only Level 4 Certified Skating Coach in our province (May 2016), Kevin has been employed for over 30 years as a Student Assistant with the Newfoundland Labrador English School District. Kevin also coached with the Conception Bay North (CBN) Skating Club for 28 years and with the Prince of Wales Skating Club in St. John's for 15 years. He has coached all levels and ages of skating from PreCanSkate to Senior, including disciplines of singles, dance, pairs, and synchronized skating, and has accompanied athletes to numerous Atlantic and National Championships. Annually, Kevin takes pride in leading the development of the MPPSC ice show theme. Throughout Kevin's career, he served several years on the MPPSC Executive as Director of Coaching, and as Technical Director for the Avalon Region. Regularly attending both online and in-person coach training courses, seminars and meetings, Kevin has invested an incredible amount of time and money into his professional development as a coach.
Kevin introduced synchronized skating (then called precision skating) to MPPSC and CBN Skating Clubs in the early 1980s. His skaters would often tease him, and he would tease back as there was always great rivalry between the two clubs given that he coached at both. This was all in good fun, but it encouraged his skaters to work harder. Kevin must have made a lasting impression on the sport of synchronized skating, as many of those skaters reunited with each other and with Kevin, during their adult years as members of the MPPSC Adult II Synchro Team that he coached until recently. Now, 40 years later, MPPSC has a thriving synchronized skating program with up to 9 teams registered for each competitive season. Last season, Kevin coached two of those teams. This program may not exist without Kevin's tireless advocacy for opportunities for skater participation, ice time, and continuous improvement.
In terms of coaching experience and diversity, Kevin's accolades are impressive.
To name a few:
1995 Canadian Figure Skating Association National Coach of the Year
Canada Games Team Coach – 1991 (Charlottetown, PEI), 1995 (Grand Prairie, AB), 2003 (Bathurst, NB), 2007 (Whitehorse YK)
North American Challenge Coach - 2002 with skaters Neal Thorne (singles) and Neal Thorne/Whitney Young (pairs)
2001 Nominated for Skate Canada Competitive Coach of Excellence
Kevin's impact still has international reach as he coached and/or assisted numerous Canadian and World competitors when they trained in NL including Rebecca Babb and Joshua Babb, Joey Russell, and Kaetlyn Osmond. Each of these athletes have gone on to pursue successful show, coaching and choreography careers across North America with elite-level athletes of their own.
There is no question that the figure skating would not be where it is today in Mount Pearl/Paradise without Kevin's decades of ongoing guidance. The steps he has taken to make skating enjoyable, memorable, and continuously improved are evident in his actions and testaments from those around him.
We are so thrilled for Kevin, as this was one of his dreams as a member of our club.